And we know that in all things God works for the good of those who love him, who[a] have been called according to his purpose. Romans 8:28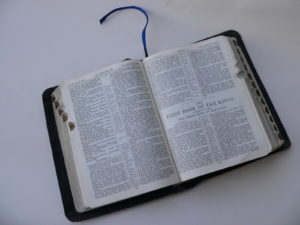 Two years ago I was in a dark place. I wanted to find a hole and crawl in it until all the pain that I felt went away. In my despair, I knew God was a present help. That's what they taught me in church. I felt like the woman with the issue of blood; I need to press my way through so I could touch the hem of Jesus' garment. I would be made whole again.
I cried a bucket of tears daily. God said he has my tears in a bottle. How many know it's not easy trying to hide your pain from your family? I didn't want to be around anybody. My mom was dying; my husband was leaving, and I wanted to go with my mom.
Oh, but God. God was tugging at my heart, and I was tugging at His. I was looking for the bush that was on fire, so I could hear from my God. I needed God. Oh! How I needed God. I wanted to be just like Moses. It sounds funny, but it's real. I searched the Word. I read other people's inspirational books. I played praise and worship music. I needed to have an encounter with God. This went on for months. Then one day during my praise and worship, He said "Here I am." God said He would never leave us nor forsake us. The darkness from my world went away. I stopped crying, and I no longer felt pain.
What's amazing is one day I realized, "Hey, I'm not crying." I had to tell myself that. That's when I experience God as my comforter. I lost my mom to cancer. Actually, I didn't lose her; I know exactly where she is. I did pray throughout her illness. When God called her home, it's because God loves her more than I could ever love her. However, God is a healer. I prayed for healing for my mom, and my mom is healed. My mom is in heaven where cancer is not welcome.
I've learned a lot about prayer since then. I will share what I've learned in other posts. I know what it means to depend on God. Prayer is our time with God. Do I believe that prayer works? Absolutely! The bible has countless stories of people who prayed and God heard their cry. I have seen God move in my own family as well.